The BioVent is completely pre-assembled, ready to bolt down onto an opening.

A 1/4" thick perforated PVC screen with 1/2" holes prevent bird and rodent intrusion.

The

vent barrel is constructed of gray schedule 40 PVC pipe with a PVC Cap.

Stainless steel q

uick release pins allow for quick removal and replacement of the cap in order to check the vent.

Standard height is 18" from flange surface to the bottom of the cap.

The vent t

akes up less space than the conventional gooseneck vent.

The BioVent odor control cartridge fits inside of the Basic vent barrel or any schedule 40 PVC pipe, typical on a house, apartment complex, retail store or commercial office building.

The BioVent cartridge

is made of stainless steel to resist corrosion.

It

comes with a handle for easy removal and a full charge of odor eliminating carbon.



Each cartridge contains a

pproximately 1 year worth of odor eliminating carbon.

The c

arbon can be washed for an additional 6 month life cycle. Refill carbon packets are also available.

BioVents and cartridges are available in a variety of sizes, 4", 6" and 8" being the most common diameters. The standard length cartridge is 12" long, optional18" lengths also available.

BioVent systems are designed for passive systems only. If you system operates with a powered ventilation or aeration system, please see our larger

Passive Canister

products.




Features:

Low CFM applications

Easy installation

Trouble free operation

Stainless Steel and UV protected PVC material

LOW COST

In Stock and Ready to Ship!



BioVent Cartridge -
Available in 12 and 18 inch lengths. Add to existing Schedule 40 vent piping to reduce odors from a sewage pump station, septic vent or house vent.

BioVent -
The BioVent Cartidge can be combined with any Basic Vent model for new systems or stations without existing ventilation . For example, a BIOV418 can be inserted into a BV104PE-60. In order to create your own custom designed BioVent, order individually the exact Basic Vent you want and then add the BioVent cartridge to fit. However, we have listed the most common combinations for ease of ordering.

All Pricing Includes Shipping and Handling within the U.S.
(except HI and AK).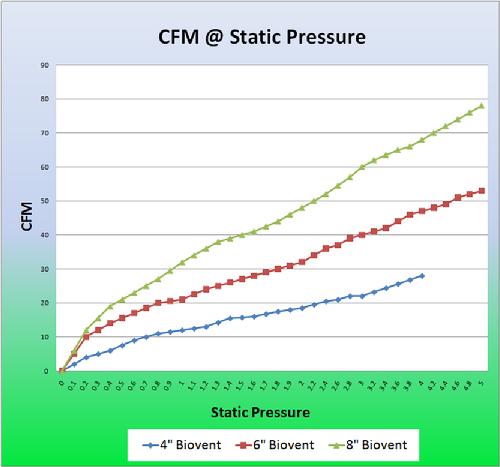 BioVent CFM at Static Pressure Chart
EZ Vent, LLC - 76 Old Hilltop Road, Conowingo, Maryland 21918 - Ph# (410) 658-2000 - ©2011 E-mail: sales@ezventmfg.com
Web Hosting powered by Network Solutions®